Jump to navigation
Jump to search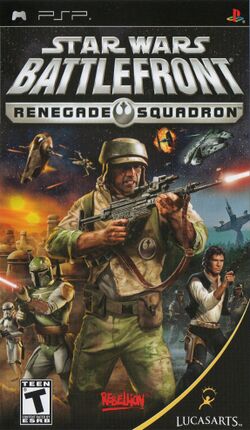 Star Wars Battlefront: Renegade Squadron is the third Star Wars Battlefront video game, released in North America on October 9, 2007 and in Europe three days later. The game was released only for the PlayStation Portable. Renegade Squadron is also available in a bundle pack with the new white PSP redesign featuring Darth Vader on the back.
Aside from new heroes and vehicles, such as the Millennium Falcon, a notable new feature is the ability to create a character, allowing the player to adjust the character's weapon, appearance, and speed, amongst other things, to their liking. Before the game's release, LucasArts had stated that over one million different customizable options would be present. Another new feature allows players to enter asteroid bases on some space maps.
Commander Col Serra describes the forming of Renegade Squadron in the beginning cutscene of campaign. Then the player starts a series of missions ranging different objectives while including cut scenes in between each mission. The final mission includes the Battle of Endor]], in which the objectives are similar to the footage of Star Wars Episode VI: Return of the Jed].
In addition to single-player story missions, Renegade Squadron allows up to 16 players to compete via Infrastructure mode (eight-person support for ad hoc), with a special 100-point spending system to purchase custom kits with more than a million different combinations that can be used to create unique Star Wars characters.
Table of Contents
EA DICE reboot:
Spin-offs: