Jump to navigation
Jump to search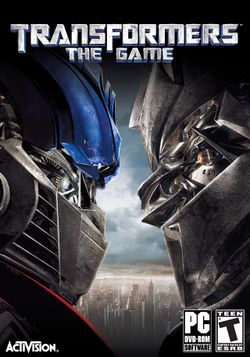 For the PSP version, see Transformers: The Game (PSP). For the Nintendo DS versions, see Transformers: Autobots and Transformers: Decepticons.
Transformers: The Game is a 2007 game by Traveller's Tales based on the live action film Transformers. It was released for the PlayStation 2, Xbox 360, Wii, PlayStation 3 and Windows. A different PlayStation Portable version was developed by Savage Entertainment.
Vicarious Visions, who was tasked with bringing the game to the Nintendo DS, chose to adapt it into two separate games: Transformers: Autobots follows the heroes' perspective while Transformers: Decepticons follows the villains.
Table of Contents