Jump to navigation
Jump to search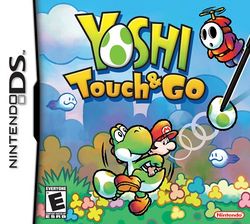 What began as a simple technical demo soon became a great example of what developers could achieve with the touch screen, Yoshi Touch & Go introduced a brand new way to play, and features an innovative method of touch screen use. Drag and tap the screen to control the actions of Yoshi and save both Baby Mario and Baby Luigi. The game itself isn't a complete game, but is more of a throw-back to old school games where the main objective was to achieve the highest score.
This is the story as described in the Yoshi Touch & Go game manual:
A lone stork flies hastily through the darkened pre-dawn skies. Held firmly in its beak is a very special package: a pair of newborn twins, which the stork is hurrying to deliver to their parents.
Just as the stork races through the skies over Yoshi's Island, something terrible happens! A dark shadow rushes toward the stork with tremendous speed and crashes into it! The startled stork drops the twin babies...
Table of Contents