From StrategyWiki, the video game walkthrough and strategy guide wiki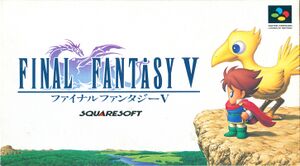 Final Fantasy V was the fifth game in the series, and the second to be released on the Super Nintendo, however it was not ported to the US or Europe until it was packaged with Final Fantasy VI as part of Final Fantasy Anthology.
The story follows Bartz and his friends as they attempt to save the Elemental Crystal and the world from destruction by unknown forces.
Differences between versions
[
edit
]
It must be noted that through the 3 versions of Final Fantasy V, there are several differences, including in translation of names and places and even dungeons can be slightly different, although the more notable variations (particularly to the Game Boy Advance version) include:
The Game Boy Advance remake for Final Fantasy V uses a separate translation from the ones used for the PS1 and SNES, although the end result is pretty similar.
The GBA version has 4 new Jobs.
The GBA version has an entirely new dungeon.
In comparison to the PS and SNES version, the GBA version has better graphics.
Table of Contents
World One
World 2
World 3
Appendices
Items and Equipment
Jobs and Skills
Enemies