Pokémon Ruby and Sapphire/Lavaridge Town
From StrategyWiki, the video game walkthrough and strategy guide wiki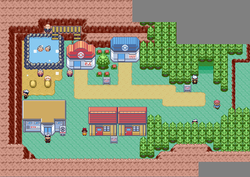 In Pokémon Ruby and Sapphire, Lavaridge Town is where you can win the fourth Badge. The town is in a volcanic region and is famous for saunas that contain spring water. A woman near the spring will give you an Egg that hatches later into a Wynaut after carrying it in your party for 5355 steps.
[edit]
Spring
Enter the hot spring through the northwestern door inside the Pokémon Center. Use your Itemfinder as you walk in the water. You'll find an Ice Heal.
[edit]
Herb Shop
This shop is to the east of the Gym. Here's what is offered:
Don't buy too many of them, because if you keep feeding your Pokémon bitter items, its love for you will wane (unless you're getting TM21 Frustration). Talk to everyone in the shop. You will get a Charcoal, a hold item, that raises the power of Fire-type moves.
[edit]
Pokémon Gym #4
Gym Leader: Flannery
Badge: Heat Badge
You have to go through a series of water-holes to reach Flannery.
This Gym's specialty is Fire Pokémon. So if you have one Water Pokémon, there will be no need to touch another. And if there is, then the battle is fun. Torkoal is tough to beat; so if you caught a Koffing in the Fiery Path, use its Self-Destruct move to end this fight. Don't prolong the fight or else Torkoal will resort to attacks like Overheat and Attract both of which cause a pain in the head. A female water, ground, or rock-type pokemon is the best choice against Flannery's Torkoal, since attract will not work on female pokemon.
Cooltrainer Zane
Kindler Axle
Battle Girl Sadie
Kindler Andy
Gym Leader Flannery
After defeating your 4th gym leader, the next gym leader to face is your father, the leader of the Petalburg City Gym. See here for trainer details, then continue on to Route 118