From StrategyWiki, the video game walkthrough and strategy guide wiki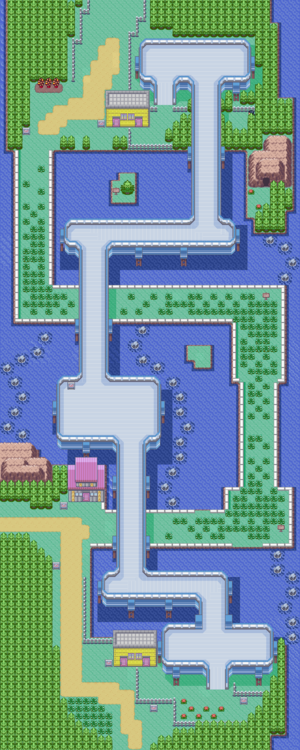 Route 110 is a route between Slateport City and Mauville City. There are a bunch of new Pokémon you can catch here, as well as lots of trainers to battle. There's two paths that you can take, the lower grassy route or the cycling road, which is only available for bikers. Since you don't have a bike just yet, you can only go the lower route.
There are two trainers before the path splits, one of them only in Emerald.
Ruby and Sapphire
Pokefan Isabel
The Trick House
[
edit
]
There's a house on this route called the Trick House, and it's the residence of a guy who goes by the name of Trick Master. He challenges any curious and bright trainer with a variety of different puzzles, from alternating access switches to trivia quizzes, but only if the trainer manages to spot him in the entrance room. Beating the puzzle gets you an item. There are a bunch of different puzzles, so many that they get their own page. Are you up to the challenge?
The Scenic Path
[
edit
]
The lower path will be the only option available to you the first time you cross this route. There's a bunch of hidden items here, and, more importantly, your second rival battle. There is a Dire Hit around the first corner, while a Full Heal is located a few squares above the sign. You can find a Great Ball above the location where you fought your rival. In Emerald, two trainers guard a hidden Revive, while another pair of trainers guard an Elixir. Finally, you can obtain a Pokéball if you search the final stretch of the bottom route.
Ruby and Sapphire
Youngster Timmy
Ruby and Sapphire
Collector Edwin
Ruby and Sapphire
Psychic Edward
Ruby and Sapphire
Fisherman Dale
Emerald
Psychic Edward
Emerald
Triathlete Alyssa
Rival Battle
[
edit
]
After you bend the first corner, you'll soon encounter your rival. While Emerald players might have battled him/her back in Rustboro City, this will be the second time Ruby and Sapphire players meet him/her. Be sure to have all of your Pokémon healed up, as this will be a challenging match unless you're overleveled.
Unlike the last time you fought him/her, whether it is in Rustboro or back at Route 103, you'll find that your rival has much better Pokémon this time around. He/She will have a total of three pokémon, and their starters will have evolved to their second stage. This battle shouldn't be too hard with a bit of strategy.
Defeating your rival will net you an Itemfinder. It will help you find hidden items, and you can immediately test it out on this route.
Cycling Road
[
edit
]
Once you obtain the bike, you can finally use the Cycling Road. It let's you avoid running into any wild Pokémon, but there are trainers looking for some battles.
Trainer

Psychic Jaclyn
Ruby and Sapphire

Triathlete Anthony
Ruby and Sapphire

Triathlete Abigail

First

Rematch
Ruby and Sapphire

Triathlete Benjamin

First

Rematch
Ruby and Sapphire

Triathlete Jasmine
Ruby and Sapphire

Triathlete Jacob
Emerald

Triathlete Anthony
Emerald

Triathlete Jasmine
Emerald

Triathlete Jacob
Rate your cycling skills
[
edit
]
There is a cyclist at the southern end of the cycling road. If you have a Mach Bike, he will tell you how long it took to cross the road and how many times you bump into something, as well as comment about how well you cycled. His comment depends on how many hidden penalties you've scored. You earn one penalty for doing the following:
Taking more than 15 seconds to cycle through the road.
Taking more than 1 minute to cycle through the road.
Bumping into the wall or another cyclist once.
Bumping into the wall or another cyclist 100 times.
Of course, it is a good idea to attempt for a high score after you defeat all the trainers, as the time spent fighting them counts into the time taken for you to complete the challenge. You obtain no prize even if you get the best possible rating, though it is a fun way of testing yourself.