Pokémon Ruby and Sapphire/Mossdeep City
From StrategyWiki, the video game walkthrough and strategy guide wiki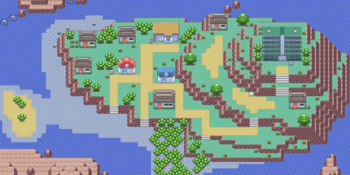 Mossdeep City is where you find the seventh Badge.
[edit]
Space Center
Go inside the Space Center to get the Sun Stone, which will allow you to evolve certain Pokémon. A few usefull items can be found here including the super rod after exploring enough.
[edit]
Pokémon Gym #7
Prize: Mind Badge
Gym Leaders: Tate and Liza
There are Psychic-Type Pokémon in this Gym.
Psychic Preston
Psychic Maura
Psychic Samantha
Psychic Fritz
Psychic Virgil
Psychic Hannah
Gym Leaders Tate and Liza (simultaneous)
[edit]
People
Tate & Liza
Steven Stone
Nurse Joy