Jump to navigation
Jump to search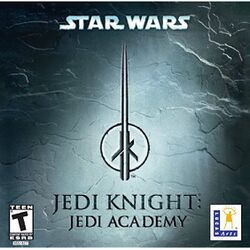 Star Wars Jedi Knight: Jedi Academy is a FPS and third-person shooter action game set in the Star Wars universe. It was developed by Raven Software and published, distributed and marketed by LucasArts in North America and by Activision in the rest of the world. Jedi Academy was released in September 2003. In September 2009, the game was re-released along with its three predecessors through Steam and Direct2Drive.
Jedi Academy is powered by the same version of the id Tech 3 (Quake III Arena) engine used in its predecessor, Star Wars Jedi Knight II: Jedi Outcast, containing modifications to the Quake code to include lightsaber combat. In a new feature to the series, the player can modify the character's gender and appearance, and can construct a lightsaber by choosing the hilt style and blade color.
The player takes control of the character Jaden Korr, a student at the Jedi Academy under the tutelage of Kyle Katarn. The player must complete various missions assigned to them by Kyle Katarn and Luke Skywalker. There is a multiplayer mode that allows the player to play against other people over a network.
The game was made available on the Mac App Store on January 23, 2013.
Following The Walt Disney Company decision to close LucasArts on April 3rd, 2013 the developers at Raven Software released the source code for the game on Sourceforge under GNU GPLv2 licensing.
Table of Contents
Appendices

External links[edit]