Jump to navigation
Jump to search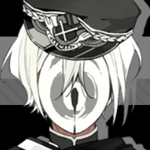 Faction: Prefects
Item: Ruler
Seiyuu: Shinnosuke Tachibana
A white-haired boy who leads the Prefects. Like the other Prefects, he hides his face with a mask (hence the name given to him by the Bad Apples) and wears a special uniform unique to the committee. He does not display any emotions, acting as if he is a machine or a doll.
White Mask wields a ruler that doubles as a blade in battle, cutting down the rule-breakers that stand in his way with considerable skill. Unlike the other love interests' items, White Mask was given the ruler by the teachers that oversee the disciplinary committee, making his life before entering NEVAEH Academy even more of a mystery than it already is.
Common Route
[
edit
]
Chapter 1: Them Apples
[
edit
]
Join the Good Apples
Gangway Bridge
Library
Chapter 2: Reaper Game
[
edit
]
Gangway Bridge
Touch his hand twice, shoulder twice, and neck
Classroom
Touch left shoulder (his right) twice, stomach twice, and ruler
Chapter 3: Vexam
[
edit
]
Touch his mask twice, ear twice, and chest
Chapter 4: Wall of Limits
[
edit
]
Behind School
Touch his mask twice, back twice, and hand
Chapter 5: Heart Festival
[
edit
]
Courtyard
Gymnasium
School Grounds
Touch his mask twice, hands twice, and shoulder
Good End
[
edit
]
Chapter 6
[
edit
]
Create a save here for the NEVAEH End.
Touch anywhere, then touch the necklace on Rinka's neck repeatedly
Chapter 7
[
edit
]
Touch anywhere, then touch the chains on his wrists repeatedly
Chapters 8, 9, and 10 have no choices.
NEVAEH End
[
edit
]
Chapter 7
[
edit
]
Load the save created during the Good End path.
Touch anywhere, then touch anywhere repeatedly (except the necklace on Rinka's neck)
Touch anywhere, then touch anywhere repeatedly (except the chains on his wrists)