Jump to navigation
Jump to search
This is the first game in the Bayonetta series. For other games in the series see the Bayonetta category.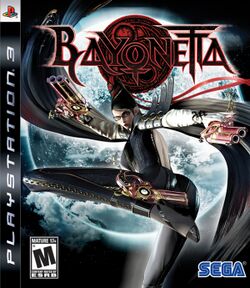 Bayonetta (ベヨネッタ, Beyonetta?) is an action game for the Xbox 360 and PlayStation 3, directed by Devil May Cry and Viewtiful Joe creator Hideki Kamiya at PlatinumGames in cooperation with publisher Sega. Set in a fictional city in Europe, the game centers on its eponymous character, Bayonetta, who uses pistols and magical attacks to defeat enemies. The game has five difficulty settings; its two easiest settings contain a game mode playable with only one button, similar to a mode used in Devil May Cry. Its developers designed its characters with modern style and fashion in mind, and composed for it a largely upbeat and feminine soundtrack. The game was eventually ported to the Wii U and bundled with its sequel, Bayonetta 2.
Bayonetta takes place in Vigrid, a fictional city in Europe. The title character is a witch who shapeshifts and uses various firearms, along with magical attacks she performs with her own hair, to dispatch her foes. She awakens after a 500 year sleep and finds herself in an unfamiliar area with no memories of who or what she is. Over time, she begins to remember what caused her current predicament. 500 years before the incident that caused Bayonetta's memory loss, there were two factions of warriors—the Umbra Witches, who are followers of darkness and their counterparts, the Lumen Sages, are followers of light. The factions shared two distinct treasures, the 'Eyes of the World' that were separately named the 'Left Eye' and the 'Right Eye', which they used to oversee the just passage of time. Both factions mysteriously disappeared from Vigrid under unknown circumstances. Bayonetta still has an ornate piece of jewelry which contains a small red gem, and believes this gem is the Left Eye of the Eyes of the World. While searching for the Right Eye, she often receives flashbacks that slowly reveal her past.
Table of Contents
Bayonetta Origins:
Compilation(s):