Jump to navigation
Jump to search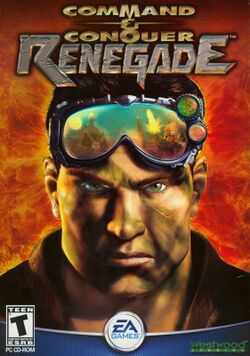 Command & Conquer: Renegade is a first and third-person shooter developed by Westwood Studios and published by EA Games. It is the only released title in the Command & Conquer series to be a shooter and the first to use the proprietary W3D (Westwood 3D) engine, later known as SAGE (Strategy Action Game Engine). The game was released on February 26, 2002. Being Westwood's first attempt at a shooter experience, the campaign was criticized for being repetitive and having poor AI, but the online multiplayer was praised.
Many modifications were created based on the multiplayer, such as Red Alert: A Path Beyond, Tiberian Sun: Reborn, and Interim Apex. A remake in Unreal Engine 3, titled Renegade X, was developed by Totem Arts and entered open beta in 2014.
The story is set in the late First Tiberium War, initially depicted in the campaigns of Command & Conquer. The player takes on the role of GDI commando Nick 'Havoc' Parker, who carries out daring missions around the globe against the Brotherhood of Nod. When GDI's top scientists are kidnapped by Nod's elite Black Hand unit, Havoc is assigned to rescue the scientists and put an end to Nod's insidious Project ReGenesis.
Gameplay
[
edit
]
The game features a 12-mission campaign and multiplayer mode. Players can carry multiple weapons and equipment in their arsenal and drive both GDI and Nod vehicles.
Renegade's main multiplayer mode is called "Command & Conquer mode", where players are divided into the GDI and Nod teams. Each team has their own base and the goal is to destroy the enemy's base while defending their own. Each base building serves a purpose, such as power plants providing power for automated defenses, and the barracks allowing purchases of advanced character classes; destroying a structure denies the team such functionality. Players start out as basic infantry and can purchase character classes and vehicles to field onto the battlefield.
Table of Contents