Jump to navigation
Jump to search

Kim Dong Hwan (キム・ドンファン) is the oldest son of Tae Kwon Do master Kim Kaphwan. Unlike his father and younger brother, Dong Hwan isn't as serious about fighting for justice and he is arrogant and slightly lazy.
Story (in Garou: Mark of the Wolves)
[
edit
]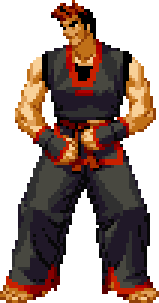 Dong Hwan is a naturally gifted Tae Kwon Do practitioner, and first son of Kim Kaphwan. He, along with his brother Kim Jae Hoon, entered the "King of Fighters Maximum Mayhem" tournament to track down the mysterious man who defeated their father. The Kim brothers overpowered Freeman, the mystery man, and he escaped. In Dong Hwan's ending, Dong Hwan, exhausted by the events in the tournament, fell asleep. Jae Hoon started to carry him home and admitted that he was a very powerful warrior and his rival. Dong Hwan heard all of this, including where Jae Hoon called him a lazy, loser hothead, and starts to chase him.

T.O.P Attack

| | |
| --- | --- |
| Kaiten Dong Hwan | + |
Command Move

| | |
| --- | --- |
| Super Jump | |

| | |
| --- | --- |
| Sankaku Tobi | Jump against a wall, press in opposite direction |
Special Move

| | |
| --- | --- |
| Raimei Zan | + |

| | |
| --- | --- |
| Kuu Sa Jin | + |
Special Move

| | |
| --- | --- |
| Shiden Kyaku | + |

| | |
| --- | --- |
| Ashi Binta | + |