Jump to navigation
Jump to search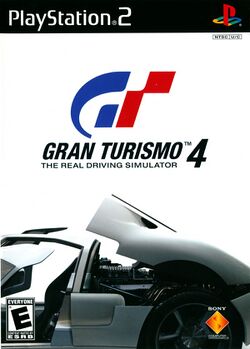 Gran Turismo 4 (グランツーリスモ4, Guran Tsūrisumo Fō?, commonly abbreviated GT4) is a racing video game for the Sony PlayStation 2 which was developed by Polyphony Digital. It was released on December 28, 2004 in Japan and Hong Kong (NTSC-J), February 22, 2005 in North America (NTSC-U/C), and March 9, 2005 in Europe (PAL), and has since been re-issued under Sony's 'Greatest Hits' line. Gran Turismo 4 is one of only two titles for the PlayStation 2 that is capable of 1080i output, the other being Tourist Trophy which was also created by Polyphony.
GT4 was delayed for over a year and a half by Polyphony Digital, and had its online mode removed (later added in Gran Turismo Online test version). The game features over 700 cars from 80 manufacturers, from as early as the 1886 Daimler Motor Carriage and as far into the future as concepts for 2022. The game also features 51 tracks, many of which are new or modified versions of old Gran Turismo favorites, with some notable real-world additions.
The Chinese, Japanese and Korean versions of the game were bundled with a 212-page driving guide and lessons on the physics of racing. A limited edition, Gran Turismo 4 Online test version, was released in Japan in summer 2006. A PSP enhanced port entitled Gran Turismo Mobile was originally planned for development, but was later renamed to Gran Turismo (PSP), which was released October 1, 2009.
Gameplay
[
edit
]
Players now accumulate points by winning races in the normal first-person driving mode, called A-Spec mode. Each race event can yield up to a maximum of 200 A-Spec points. Generally, a win using a car with less of an advantage over the AI opponents is worth more points. Points can only be won once, so to win further points from a previously-won event, it must be re-won using a car with less of an advantage over the AI. There are also the 34 Missions which can yield 250 points each. Despite this, A-Spec points are experience points, not money.
The new B-Spec mode puts players in the place of a racing crew chief: telling the driver how aggressively to drive, when to pass, and mandating pit stops (by monitoring tire wear and fuel level). The speed of the time in the race can be increased up to 3x, allowing for Endurance races to be completed in less time than would take in A-Spec mode. The 3x feature, however, must be turned on after every pit stop because it resets to normal time. The game manual says that the player may speed up B-Spec mode by up to 5x, but this is believed to be a typo. B-Spec points are given out for each race completed in B-Spec mode. This increases the skill level of the AI driver in the categories of vehicle skill, course skill, and battle skill. Players can thereby use B-Spec mode in harder races as the game progresses, but this mode cannot be used on wet, dirt and snow courses.
Another new addition to the game is the Driving Missions, which are similar in experience to the license tests, but award successful completion with 250 A-Spec points and 1000 of more credits. Each mission takes place with a given car on a given track or section of track, and a given set of opponents. There are 4 sets of missions: The Pass, in which the driver must overtake an opponent within a certain distance; 3 Lap Battle, in which the driver must pass 5 opponents over the course of 3 laps; Slipstream Battle, in which the driver must overtake identical opponents by way of drafting; and 1 Lap Magic, in which the driver starts with a significant time penalty against much slower opponents and must overtake them all in the space of a single lap. Completing each set of missions earns the player a prize car. There are a total of 5 prize cars available to be won, they are DeLorean Motor Company, DeLorean DMC-12, Jay Leno Tank Car, Pagani Zonda Race Car, Toyota 7, and the Nissan R89C.
A new Photo Mode is included in the game, which allows the player to control a virtual camera, taking pictures of their cars on the track or at specific locations, including the Grand Canyon. This game is able to produce a selection of screenshots with variable compression rate (Normal/Fine/SuperFine) and size (up to 1280x960 72dpi), and the user can choose to save or print to a supported USB device.
Table of Contents