Jump to navigation
Jump to search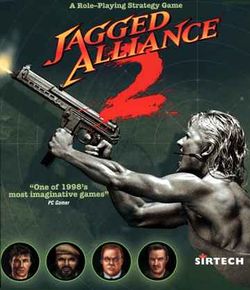 Jagged Alliance 2 is a tactical role-playing game for PC, released in 1999 for Windows, and later ported to Linux by Tribsoft. It is the third game in the Jagged Alliance series, and was followed by two expansions: Unfinished Business in 2000 and Wildfire in 2004. Jagged Alliance 2 and the Unfinished Business expansion were combined in the Jagged Alliance 2 Gold Pack, released on August 6, 2002. In July 2006, the Jagged Alliance 2 Gold Pack was released on Steam.
Jagged Alliance 2 takes place in the fictional nation of Arulco, ruled until the late 1980s by a unique democratic monarchy – a monarch led the nation, but elections were held every ten years to assert their legitimacy. In 1988, election candidate Enrico Chivaldori took a wife, Deidranna Reitman of Romania, in order to boost his popularity and consequently was victorious. However, Deidranna proved to be far more than a simple pawn; showing an unquenchable thirst for power, she soon framed Chivaldori for the murder of his father. Enrico managed to escape, faking his own death. Removing all other obstacles from her way, she soon consolidated her power and converted Arulco into an authoritarian state.
When the game begins, Chivaldori has hired the player to remove Deidranna by whatever means necessary. He puts the player and his team of mercenaries in contact with a rebel movement in the northern town of Omerta. Omerta suffered a massive raid shortly before the events of the game, leaving the town damaged and nearly deserted. The rebel leader Miguel Cordona, former election candidate and opponent of Enrico, guides the player to the city of Drassen.
The game also features a sci-fi mode that introduces an enemy not present in realistic mode – the "Crepitus", a species of giant insect living underground and occasionally emerging to the surface.
Table of Contents