Jump to navigation
Jump to search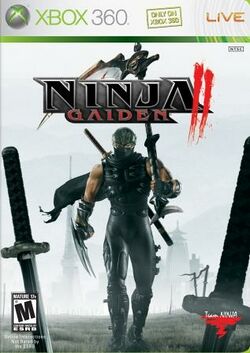 This guide is for the Xbox 360 and PlayStation 3 game. For the 1990 NES game, see Ninja Gaiden II: The Dark Sword of Chaos.
Ninja Gaiden II is the sequel to Ninja Gaiden and was released worldwide for the Xbox 360 in June, 2008. It was developed by Team Ninja and published by Microsoft Game Studios, marking the first time a Team Ninja developed game was not published by Tecmo. While sharing the same number as the Nintendo Entertainment System game Ninja Gaiden II: The Dark Sword of Chaos, it is not a conversion of that older title. The game has not been released in Germany, due to lack of a USK rating. A remake of the game, titled Ninja Gaiden Sigma 2, or Ninja Gaiden Σ2, was developed exclusively for PlayStation 3 and released on September 29, 2009.
Ninja Gaiden II keeps most of the core elements of its predecessor, Ninja Gaiden. Protagonist Ryu Hayabusa (voiced by Josh Keaton) engages the world in a third-person over-the-shoulder perspective, beginning the game with basic, low-level abilities and weapons that can be upgraded as he progresses by discovering or buying items. Ryu can interact with the game environment by running along and jumping off walls, swinging from pole to pole, or running across water. Unlike its predecessor, which used a city designated as a hub, Ryu travels around the world, ranging from New York, Tokyo, the familiar Hayabusa Village, the Aqua Capital (with an environment similar to the canals of Venice), and regions of non-human origins, such as the Northern Purgatory, Lifeblood Shrine and Niflheim in a progressive stage-by-stage setting, reminiscent of the style of the original Ninja Gaiden platformers. Aside from fighting enemies, Ryu will need to find keys and solve puzzles in the various environments, so as to progress through the game.
Table of Contents