Jump to navigation
Jump to search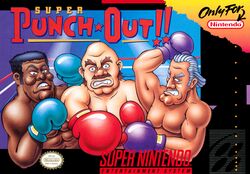 Super Punch-Out!! (スーパーパンチアウト!!, Sūpā Panchi-Auto!!?) is a boxing video game developed and published by Nintendo for the SNES. It was released on October 1, 1994 in North America, and was re-released in the same region in 1996. It was also released in Europe on January 26, 1995 for the same console, and in Japan for the Nintendo Power flash RAM cartridge series as well as the Super Famicom, the Japanese version of the SNES. It is the fourth game in the Punch-Out!! series, taking place after the NES Punch-Out!!. In 2005, the Nintendo Nintendo GameCube version of Electronic Arts' Fight Night: Round 2 was released worldwide, which included Super Punch-Out!!. Super Punch-Out!! was released for the Wii's Virtual Console in Europe on March 20, 2009, and in North America on March 30, 2009.
Like the previous titles in the Punch-Out!! series, Super Punch-Out!! requires good timing and pattern recognition skills to react to the attacks of each opponent. During matches, the player's boxer Little Mac[4] is viewed from behind and is transparent (as opposed to the wireframe model used in the arcade games) so the opponents can be seen. As the player proceeds through all four circuits of the WVBA (World Video Boxing Association), the opponents become more difficult to react to and defeat.
Originally used in the Punch-Out!! and Super Punch-Out!! arcades, as well as Nintendo's Arm Wrestling arcade is the Time Attack feature. This feature will allow you to time your matches against boxers. This feature has been updated to allow you to select and play against any boxer, after you already beat a circuit you already finished. The more circuits you finish, the more boxers you'll play in Time Attack are unlocked. When all four circuits are finished, there will be no more boxers to unlock.
Table of Contents