Jump to navigation
Jump to search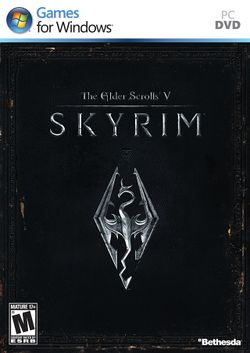 Independent wikis with more information:
The Elder Scrolls V: Skyrim is a role-playing game developed by Bethesda Game Studios and published by Bethesda Softworks. It is the fifth installment in The Elder Scrolls action role-playing series, following The Elder Scrolls IV: Oblivion. It was released on November 11, 2011 for Windows, PlayStation 3 and Xbox 360.
Skyrim's main story revolves around the player character's efforts to defeat Alduin, the firstborn of Tamriel's primary deity Akatosh. Alduin is prophesied to destroy the world. Set two hundred years after Oblivion, the game takes place in the land of Skyrim, which is in the midst of a civil war after the assassination of the High King. The open world gameplay of the Elder Scrolls series returns in Skyrim; the player can explore the land at will and ignore or postpone the main quest indefinitely. Following its release, the game received generally favorable reviews from critics.
Versions
[
edit
]
The Nintendo Switch version will include all the content, including the exclusive "Legend of Zelda" costumes and weapons.
Table of Contents
Quests
Other
Bard's College
Blades
Miscellaneous