Jump to navigation
Jump to search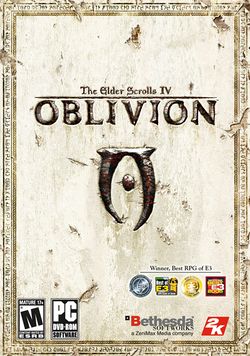 Neoseeker Related Pages
Links
Independent wikis with more information:
For the mobile game, see The Elder Scrolls Travels: Oblivion Mobile.
The Elder Scrolls IV: Oblivion is the fourth game in the Elder Scrolls series of RPGs. As with all versions, the player begins the game in Prison, going to Prison or having just been released from Prison. The player's primary task, in the very beginning of this game is to escape the Imperial Jail. Once freedom is attained then the player has several quest options, including following along the main storyline, to find an heir to the Empire and prevent the denizens of Oblivion from conquering Cyrodiil by way of Oblivion Gates.
In the beginning the primary quest options were: Mage's Guild Quests, Fighter's Guild Quests and the Main Storyline Quest. Since the first release, other quests were released as downloadable content and now they're available as part of purchase of the Oblivion Game, Game of the Year version.
They are:
Knights of the Nine
Shivering Isles
Frostcraig Spire
(others may be listed, but have not encountered them during play yet).
Table of Contents
External links
[
edit
]
Obliv-o-Map, a fully interactive Flash version of the in-game map. Has all location markers but no quest markers as yet.
UESP Oblivion Map powered by the Javascript-based Google Maps API. No quest markers as yet.
Oblivion Mod Wiki a great little wiki that has far more oblivion mods then we could list.