Jump to navigation
Jump to search
This is the first game in the The Ninja Warriors series. For other games in the series see the The Ninja Warriors category.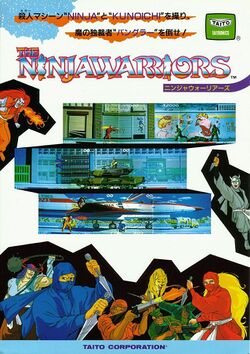 This guide is for the original 1987 arcade game. For the 1994 SNES game, see Ninja Warriors.
The Ninja Warriors (ニンジャウォーリアーズ, The Ninja Warriors?) is a side-scrolling beat 'em up video game developed and released by Taito in 1987. The original arcade game situated one display in between projected images of two other displays, creating the appearance of a triple-wide screen. A remake and a sequel, The Ninja Warriors Again, was developed by Natsume and released in 1994, followed by its remaster The Ninja Warriors Once Again released in 2019.
The Ninja Warriors presents side-scrolling hand-to-hand combat. Players take control of Kunoichi (player 1) or Ninja (player 2) and fight wave after wave of Banglar forces across six levels. Button 1 attacks with a short-range kunai slash, while button 2 fires long-range shurikens that are limited in supply.
The game's arcade cabinet is unique due to its three contiguous screens (one screen facing the player in the middle, and two more screens in the cabinet below, reflected by mirrors on either side of the middle screen) which created the effect of a single, "triple-wide" screen, depicting ninjas. The same cabinet was also used for Darius and Darius II and Konami used a similar format for its X-Men arcade release (six players). The music was composed by Hisayoshi Ogura and Taito's in-house band Zuntata. Pony Canyon and Scitron released the two soundtracks for the game in 1988 and 1991, while further arrangements were released in 1993 and by Zuntata Records and Taito in 1988 and 2009.
The game was ported to various personal computers: the Commodore Amiga, Atari ST, ZX Spectrum, Commodore 64 and Amstrad CPC. Home console versions of the game were released exclusively in Japan for the PC Engine and Sega Mega-CD. A version for the Arcade Archives series on the PlayStation 4 was released in September 2017. A new port based on the 1994 version titled The Ninja Warriors: Once Again was released in 2019 on Nintendo Switch. It features new artwork and two new playable characters.
The game is based in a dystopian future where Banglar, the President of the United States in 1993, issues martial law on the nation, with the military having total control over the law. A group of anarchist scientists led by Mulk decide that it is time to revolt against the government. Knowing full well that approaching the military themselves could be considered an all out suicide mission, the scientists create two androids that can sustain various forms of damage in order to do the mission for them. The robots, code named "Kunoichi" (red female) and "Ninja" (blue male), are sent by the scientists in order to end Banglar's tyranny once and for all.
Table of Contents