Jump to navigation
Jump to search
The Collector's Edition and the Game Of The Year Edition both include content that was not included in the original release.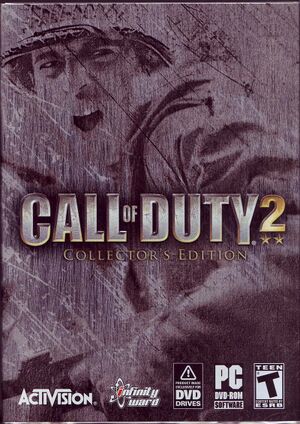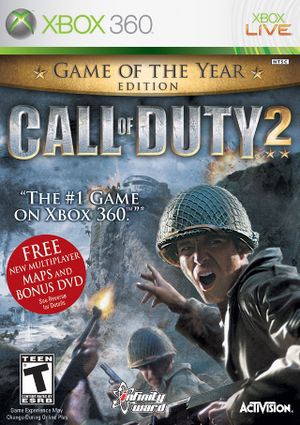 Collector's Edition
[
edit
]
The Collector's Edition was released on 25th October 2005 and is exclusive to the PC. It included game trailers, concept art and a commentary. It also included a mission walkthrough and gameplay tips. Veteran Ranger Len Lomell narrated the commentary on the assault of Pointe Du Hoc in 1944. It is quite rare to find this edition now as there was a limited amount sold and the edition is was only released in the USA.
Game Of The Year Edition
[
edit
]
Call of Duty 2 picked up the Game Of The Year award in 2005 and also became the most sold Xbox 360 game. To celebrate Activision announced there would be Game Of The Year Edition for both PC and Xbox 360. It was released 13 May 2006 in North America and 21 July 2006 in Europe. The edition included a token that would get you the Skirmish Map Pack for free. As well as these two free multiplayer maps there was a bonus DVD with interviews of veterans and employees at Infinity Ward and a video documenting the making of Call of Duty 2.