Jump to navigation
Jump to search
This is the first game in the Danger Mouse series. For other games in the series see the Danger Mouse category.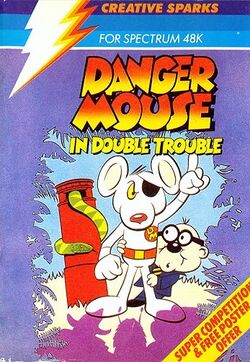 Designer(s)
Martin Harris, Nick Burroughs (ZX Spectrum),
Martin C. Sexton (Commodore 64),
Phil Snell (Amstrad CPC)
Genre(s)
Action
Players
1
Modes
Single player
Danger Mouse in Double Trouble is an action game that was originally released by Creative Sparks for the Sinclair ZX Spectrum in 1984 (and designed by Martin Harris and Nick Burroughs); it was later ported to the Commodore 64 in that same year by Martin C. Sexton, and to the Amstrad CPC in 1985 by Phil Snell. It is based on the Cosgrove-Hall/Thames Television animated series of the same name.
This is from the back of the cassette's inlay card, the front of which is shown in the image to the right:
News has just come in that Baron Greenback and his gang have spent the last fortnight building a 32k RAM DMOS ROM Electrically Erasable Mega Micro-Mouse Hardware Unit.
"Good grief!" cries DM. "Those initials stand for Robot Artificial Mechanism, Danger Mouse Operating System, Really 'Orrible Mouse!"
"Absolutely," says K. "An android Danger Mouse.
Trouble is, DM, the electrically controlled DMOS loading sequence has been initialised and the release is due at tea-time!"
Can DM save the world by tea-time? Or is it Greenback's micro chips with everything?
Is it two for tea and no tea for two????! Find out.
© Cosgrove-Hall Productions 1984
This is the first game in the Danger Mouse series; it was followed up by two sequels, Danger Mouse in the Black Forest Chateau (also dating from 1984) and Danger Mouse in Making Whoopee (1985).
Table of Contents