Jump to navigation
Jump to search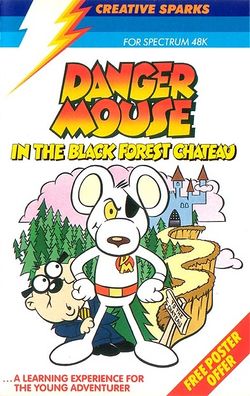 Danger Mouse in the Black Forest Chateau is a text adventure game which was originally released by Creative Sparks for the Sinclair ZX Spectrum, Commodore 64, and MSX in 1984 (and designed by Brian Belson, Edgar Belka and Kevin Buckner); it is the second title in their Danger Mouse series and is again based upon that Cosgrove-Hall (and Thames Television) animated series of the same name.
This is from the back of the cassette's inlay card, the front of which is shown in the image to the right:
"Colonel K calling Danger Mouse...Ah, there you are!
It's an urgent message for you...and Penfold of course.
A mysterious Pi-beam is focusing on the world's
leading politicians...it's got them into
a...sticky mess!"
"So it's a lemon meringue pie beam, sir."
"No, a Black Forest one actually...Better
get down there, both of you, and
locate the fiendish operator. You'll
need all your secret agent skills...and Penfold
of course."
© Cosgrove-Hall Productions 1984
In 2008, this game was remade for today's Windows, Linux, Mac OS X and GP2X operating systems.
Table of Contents