Jump to navigation
Jump to search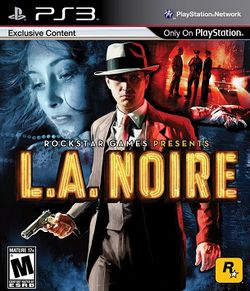 L.A. Noire is an adventure game developed by Team Bondi and published by Rockstar Games. It is the biggest game ever made in Australia. Initially announced as a PlayStation 3 exclusive, the game was also released on the Xbox 360, both of which came out in May, 2011. A Windows version was released in November 2011. L.A. Noire is set in "a perfectly re-created Los Angeles" of 1947, with players being given an open-ended challenge to solve a series of murder mysteries.
As the title suggests, the game draws heavily from both plot and aesthetic elements of film noir—stylistic films from the 1940s and 1950s that shared similar visual styles and themes including crime, sex and moral ambiguity and were often shot in black and white with harsh, low-key lighting. The game uses a distinctive coloring style in homage to the visual style of film noir. The post-war setting is the backdrop for plot elements that reference the detective films of the '40s (as well as James Ellroy's novel L.A. Confidential and the Curtis Hanson film based on it), such as corruption and drugs, with a jazz soundtrack.
L.A. Noire is also notable for using Lightsprint's real-time global illumination technology, as well as Depth Analysis's newly developed technology for the film and video game industries called MotionScan, where actors are recorded by 32 surrounding cameras to capture facial expressions from every angle.
The game takes place in 1947 Los Angeles, a city of glamour, fame, and wealth, but also where crime, vice, and corruption are rife. The player assumes the role of Cole Phelps, an LAPD officer who rises through the ranks of the department. He has joined the police force to "right the wrongs" he committed during the Second World War. He starts off as a patrolman, then advances to traffic detective, homicide, vice, and finally arson investigator. Each rank gives the player a partner who will help Phelps in his investigations, fights, and arrests.
The game blends investigative elements such as mystery and crime solving with fast-paced action sequences including on-foot and car chases as well as gun play. In addition to the storyline missions, the player can work on optional side investigations following a call from dispatch. The player can also travel on foot, as well as in different vehicles.
A remastered version was made available for Nintendo Switch, Xbox One and PS4 in November 2017, with advanced graphics and improved gameplay.
Table of Contents
Patrol Desk
Traffic Desk
Homicide Desk