Jump to navigation
Jump to search
This is the first game in the Medal of Honor series. For other games in the series see the Medal of Honor category.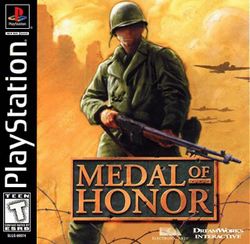 For the 2010 PlayStation 3, Xbox 360, and Windows game, see Medal of Honor (2010).
Medal of Honor is the first title in the long-running Medal of Honor series of video games. It was released for the PlayStation in November 1999. A remake of it will be released for PlayStation 3 and PSP. The story was created by director/producer Steven Spielberg.
In Medal of Honor, the player takes the role of the fictional Lieutenant Jimmy Patterson, who was recruited to the OSS. The game takes place during the near end of World War II, (mid 1944- mid 1945). The goal of the game is to complete objectives, such as destroying enemy positions, and kill enemy German forces in the process.
Table of Contents
Mission 1: Rescue The G3 Officer
Mission 2: Destroy The Mighty Railgun Greta
Mission 3: Scuttle Das Boot U-4901
Mission 4: Attack Impenetrable Fort Schmerzen
Mission 5: Sabotage the Rjukan Hydro Plant
Mission 6: Capture the Secret German Treasure
Mission 7: Escape The V2 Rocket Plant