Jump to navigation
Jump to search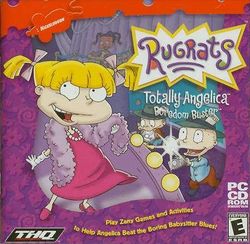 Rugrats: Totally Angelica Boredom Buster is a party game which was developed by KnowWonder for The Learning Company and released for Microsoft Windows on July 1, 2000; as the name implies, it is the tenth title for the Rugrats series, and the last that does not feature Kimi (Chuckie's stepsister).
This is taken from the back of the game's box, the front of which is displayed in the image to the right:
What's worse than spending the evening with a bunch of dumb babies? Having a boring babysitter
who wants to yak on the phone all night! Hold on to your pigtails because Angelica has a few ideas
on how you can beat the babysitter blues. You'll have so much fun, you'll want the babysitter to come back more often!
Fit for a Princess:
Complete Angelica's "Fantasy
Face" by matching the
look in the mirror.
Angelica TV:
Lights, Camera, Angelica! Create your
own music video starring you-know-who
using hip-hop, ballet, pop or disco music.
Ice Queen:
Help Angelica beat the clock with a
full-on ice folly, but beware of those
pesky barrels and banana peels!
Makeover Time:
Create a high-fashion photo
shoot for Angelica! Choose
color-customizable outfits
from her closet and add
them to her photo album!
© Viacom International Inc. 2000
Table of Contents
Rugrats: Totally Angelica Boredom Buster/Table of Contents