Jump to navigation
Jump to search
This is the first game in the Rugrats series. For other games in the series see the Rugrats category.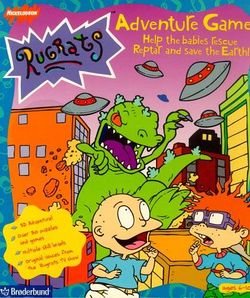 Rugrats Adventure Game is an adventure game, that was released by Brøderbund Software for the Microsoft Windows operating system in 1998. It is based upon the Nickelodeon animated series (or "Nicktoon") Rugrats, which was produced by Klasky-Csupo, Inc., who had previously produced the first three seasons for Twentieth Century Fox's The Simpsons, and another Nicktoon, Aaahh!!! Real Monsters.
This is taken from the back of the game's box, the front of which is displayed in the image to the right:
It's the first software
game that lets you join an
adventure with the Rugrats
gang! The evil Queen
Angeleeka is out to destroy
the earth - and Reptar,
the babies' only hope, could
become a light snack for
Hubert the Trash Monster.
So it's up to you to save
the day in a real Rugrats
adventure!
© Viacom 1997
This game's box states that it features "original voices from the Rugrats TV series"; Tommy is voiced by E. G. Daily, while Chuckie is voiced by Christine Cavanaugh (1963–2014), who also voiced Oblina on Aaahh!!!, Phil and Lil are both voiced by Kath E. Soucie, and Angelica is voiced by Cheryl Chase, who also voiced several characters for another original Nickelodeon show, The Ren & Stimpy Show.
Table of Contents