Jump to navigation
Jump to search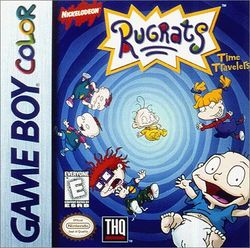 Rugrats: Time Travellers is a platform game which was developed by Software Creations for THQ and released for the Game Boy Color in November 1999; as the name suggests, it is the eighth title in the Rugrats series (and the second with inferior graphics & audio due to being released on GBC), but unlike The Rugrats Movie, it couldn't be played on the SNES with the Super Game Boy adapter.
This is taken from the back of the game's box, the front of which is displayed in the image to the right:
Hang on to your diapies, babies!
We're goin' back in time!
1. Dive in an underwater city
2. Rush through the gold mines
3. Spin a fairy tale with Lil
4. Showdown in the Wild West
5. Bounce on the moon with Dil
6. Romp with Reptar's ancestors
7. Join Angelica's daredevil circus
© Viacom International Inc. 1999

The game is also, like those of another original Nickelodeon cartoon, The Ren & Stimpy Show, based on several segments off the show (most notably "Toy Palace", where Tommy and Chuckie get locked in a toy store after it has closed for the night and activate a marauding robotic gorilla named "Thorg").
Table of Contents
Rugrats: Time Travellers/Table of Contents