Jump to navigation
Jump to search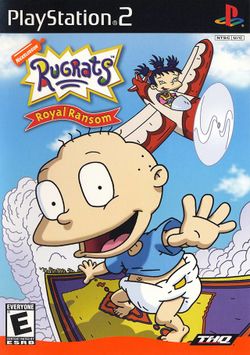 Neoseeker Related Pages
Links
Rugrats: Royal Ransom is a platform game that got developed by Avalanche Software for THQ and initially released for the Sony PlayStation 2 on November 16, 2002, then for the Nintendo GameCube eleven days later; as the naming suggests, it is the fourteenth title in the long-running Rugrats series.
This is taken from the back of the game's box, the front of which is displayed in the image to the right:
IT'S ADVENTURE TIME!
Test your skills in an adventure-filled game as you
help the Rugrats rescue their Royal Ransom! The
Rugrats will face mysterious knights, capture
rowdy monkeys, race crocodiles down
twisting rivers, tame wild dinosaurs and
much more on a mission to reclaim their most
prized possessions!
Take time to "monkey" around!
Piece together the missing
parts of the snowman!
Blast through craters
on the moon buggy!
Hunt for untold treasures!
Dash into a circus full of action!
Dive into the depths
of the ocean!
5 different Rugrats to choose from: Tommy,
Chuckie, Kimi, Phil or Lil!
9 gigantic environments to conquer!
Awesome 2-player action!
Tons of vehicles: a moon buggy, airplane,
flying carpet, snow sled and submarine!
© Viacom International Inc. 2002
Table of Contents
Rugrats: Royal Ransom/Table of Contents