Jump to navigation
Jump to search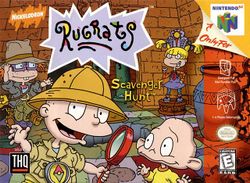 Neoseeker Related Pages
Links
Rugrats: Scavenger Hunt is a party game that was developed by Realtime Associates for THQ, and released on the Nintendo 64, on June 29, 1999; as its name suggests, it is the fifth title in the Rugrats series (and the second featuring multiplayer capabilities). The game was later released under the title Rugrats: Treasure Hunt in the EU on August 10, 1999 - however, only the title screen was changed to account for the new name, and the rest of the game remained the same as the original US version.
This is taken from the back of the game's box, the front of which is displayed in the image to the right:
Scavenge through three games in one!
Reptar Rally:
The babies visit Reptar
on his candy island to
help him collect as many
sweets as possible.
Angelica's Temple of Gloom:
The babies are transported to the
ancient Aztec Temple of Kokobola.
Find all the pieces to the broken
Aztec statue before Angelica
does, or else...
Pirate Treasure Hunt:
Play diaper-to-diaper and
search through a sunken pirate
ship looking for hidden treasure.
© Viacom International Inc. 1999
Table of Contents
Rugrats: Scavenger Hunt/Table of Contents