Jump to navigation
Jump to search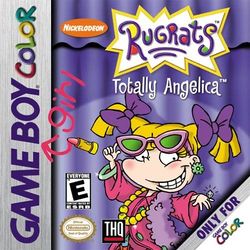 Rugrats: Totally Angelica is an action game that was developed by Tiertex Design Studios for THQ, and initially released upon the Game Boy Color on May 5, 2000, and later on the Sony PlayStation on April 13, 2001; as the name implies it is the ninth title for the Rugrats series, and the third one to have inferior graphics and audio due to it being released for the GBC (until it was later also released on the PS). The PS version also features Kimi (Chuckie's stepsister), for it was made after she had debuted.
This is taken from the back of the game's box, the front of which is displayed in the image to the right:
Gamers Unite!
It's a whole new game starring me!
Play tons of mini-games with the whole
Rugrats gang. Collect jewelry, shoes,
outfits, and make-up for the Rugrats
Fashion Show. Totally Angelica, the
first game to star the prettiest, most
beautiful kid in the whole universe!
© Viacom International Inc. 2000

Although this game's story was made to look like it was written by Angelica herself, it could be argued that Oblina from Klasky-Csupo's second Nickelodeon cartoon, Aaahh!!! Real Monsters, is prettier and more beautiful than her (even if she does resemble an inverted, black-and-white-striped candy cane).
Table of Contents
Rugrats: Totally Angelica/Table of Contents
Spin-offs:
Compilation(s):