Jump to navigation
Jump to search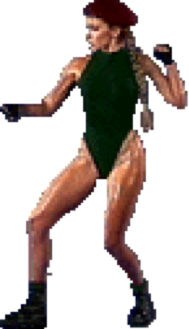 Click here for more information about Cammy's other fighting game appearances.
Cammy is a supporting character in the film. She was an ex-member of the British Secret Service before joining the Allied Nations (A.N.). Cammy is Guile's right-hand woman and intelligence officer in the battle against the dictator, Bison.
Other than her military-based appearance and working with the British Secret Service, none of Cammy's original Street Fighter II story translates to the film. She doesn't know Bison on a personal level and her having amnesia was never mentioned. While important, Cammy has a relatively small role in the film.
In the arcade game, Street Fighter: The Movie, Cammy can now use a whip and grenades in battle. In the movie and games, she was played by Kylie Minogue.
Cammy was the intelligence officer and second in command in Allied Nation forces led by Colonel Guile. She traveled with Guile and T. Hawk by boat to Bison's temple and aided in the strike against Shadaloo warlord, who had captured over sixty hostages. With Bison's dictatorship destroyed by Guile and the hostages saved, Cammy was either promoted to the rank of General in the A.N. (arcade version) or returned to the British Secret Service while still heping Guile for special assignments (console version).

| Name | | Input |
| --- | --- | --- |
| Hooligan Suplex | close, or + | |
| Frankensteiner | close, or + | |
| Air Frankensteiner | close, or + | or |
| Throw Reversal | during throw + | |
| Slammaster | during throw reversal + | |
| Spiral Arrow | + | |
| Air Spiral Arrow | Hold then jump forward | and release |
| Air Knee | Hold then jump forward | and release |
| Thrust Kick | + | |
| Axle Spin Knuckle | + | |
| Hooligan Combination | + | , then |
| __Razor Edge Slicer | | do nothing and land |
| __Cross Scissor Pressure | or + | |
| Choke Whip | Hold | and release |
| Low Kick Knockdown | reversal + | |
| Spiral Arrow | reversal + | |
| Comeback: Grenade | close, Hold , | and release |
| BLUE: Spin Drive Smasher | + | |
| RED: Killer Choke Whip | + | then + release |
| Regeneration | Hold + | and release |

| Name | | Input |
| --- | --- | --- |
| Hooligan Suplex | close, or + | |
| Frankensteiner | close, or + | |
| Air Frankensteiner | close, or + | or |
| (EX) Spiral Arrow | + | |
| (EX) Cannon Spike | + | |
| Axle Spin Knuckle | + | |
| Hooligan Combination | + | , then |
| __Razor Edge Slicer | | do nothing and land |
| __Fatal Leg Twister | or + | near opponent's head |
| __Cross Scissor Pressure | or + | near opponent's body |
| Spin Drive Smasher | + | |