Jump to navigation
Jump to search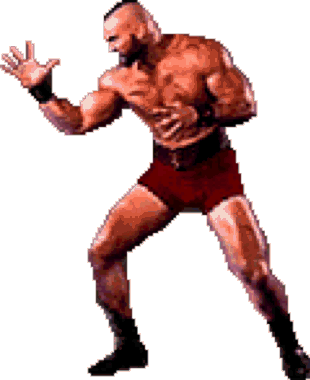 Click here for more information about Zangief's other fighting game appearances.
Zangief was a strong supporting character and comedy relief of the film. He works for General Bison for most of the film, but really isn't evil. Not much of the character's Street Fighter II story-line appears in the film, but unlike some of the other characters, it doesn't contradict it. In the movie and games, Zangief was played by Andrew Bryniarski.
Zangief serves as General Bison's bodyguard and assistant. Naive and slightly slow-witted, he believed that Bison was the hero and that the Allied Nations Guile, were evil. During the battle at Bison's fortress, Zangief did battle with E. Honda. After the fight Zangief sees Dee Jay, Bison's computer expert, retreating the battle. From Dee Jay he learns that not only had Bison deceived him, but he was never paid to work for him (unlike Dee Jay).
As the fortress was coming down, Zangief switches sides and helps [Street Fighter: The Movie/Ryu|Ryu]] and Ken rescue the hostages. After Bison's defeat, he is readily accepted by the A.N. and the other heroes. In the arcade version, Zangief leaves Shadowloo forever tormented by his crimes never to be seen again. In the console version, Zangief returns home to Moscow and became a pro-wrestler once more. He quickly finds that there is no challenge. Now he spends most of his time training for his matches against E. Honda and the rest of it serving on Guile's security force.

| Name | | Input |
| --- | --- | --- |
| Piledriver | close, or + | |
| Kamitsuki | close, or + | |
| German Suplex | close, or + | or |
| Throw Reversal | during throw + | |
| Slammaster | during throw reversal + | |
| Double Lariat | | (move or) |
| Quick Lariat | | (move or) |
| Screw Piledriver | + | |
| Atomic Suplex | + | |
| Airplane Spin | close, Hold | then or then release |
| Violent Flat | + | |
| Violent Flat | reversal + | |
| Knee Kick | reversal + | |
| Comeback: Head Slide | Hold + | and release |
| BLUE: Final Atomic Buster | + | |
| RED: Flying Brain Crusher | + | |
| Regeneration | Hold + | and release |

| Name | | Input |
| --- | --- | --- |
| Piledriver | close, or + | |
| Iron Claw | close, or + | |
| German Suplex | close, or + | |
| Kamitsuki | close, or + | |
| Leg Throw | close, or + | or or or |
| Stomach Claw | close, or or + | or |
| Flying Body Attack | + | |
| Double Knee Drop | + | or |
| Headbutt | or + | or |
| Kuuchuu Headbutt | + | or |
| Double Lariat | | (move or) |
| Quick Lariat | | (move or) |
| (EX) Screw Piledriver | + | |
| Flying Powerbomb | + | |
| Atomic Suplex | close, + | |
| (EX) Banishing Flat | + | |
| Final Atomic Buster | + | |