Jump to navigation
Jump to search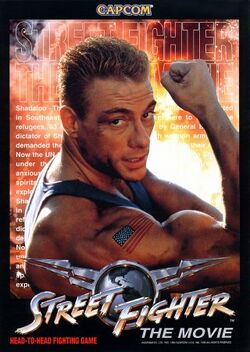 For the PlayStation and Sega Saturn game, see Street Fighter: Real Battle On Film.
Street Fighter: The Movie (ストリートファイター ザ・ムービー Sutorīto Faitā Za Mūbī) is a 1995 fighting game based on the 1994 Street Fighter movie based on the hugely popular Street Fighter fighting game series by Capcom. The game used realistic, digitized computer graphics, trying to capitalize on the success of Mortal Kombat. This version of Street Fighter: The Movie is an arcade only port and was developed by Incredible Technologies.
While Capcom put their name on the cabinet, they had virtually nothing to do with creation of this game. Incredible Technologies designed all the animation and stages and created all the music and sounds. Controls for special moves are modeled after both Street Fighter and Mortal Kombat. For example some moves are used by doing down, down/forward and forward (D, DF, F) and punch or kick on the control stick. Other moves are done by just doing forward and forward (F, F) on the control stick as done in Mortal Kombat. The special moves and super moves are added to familiar characters with the MK style of activation. Some of the moves involve characters using weapons that were not featured in the movies or original games. There are also three types of super moves, Blue Super Combos which are the original super moves, Red Super Combos, more damaging moves that usually are activated with Mortal Kombat style moments on the control stick and finally Regeneration (Kaifuku Waza or Recovery Art in Japan), a move that recharges the player's life bar. This was the first Street Fighter game to have more than one super combo. The game's cast includes characters exclusive to the movie, these characters include and Sawada, Blade, Arkane, F7 and Khyber, the latter three appear as secret characters.
Table of Contents