Jump to navigation
Jump to search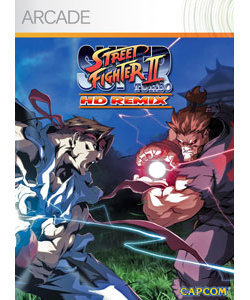 Super Street Fighter II Turbo HD Remix is a 2D fighting game published by Capcom using the PlayStation Store and Xbox Live Arcade download services. It is a remake of Super Street Fighter II Turbo (the fifth arcade iteration of the Street Fighter II sub-series) featuring the original game and a "remixed" version using high definition graphics drawn by UDON Entertainment, arranged music by OverClocked ReMix, and rebalanced gameplay. The game has been designed by Backbone Entertainment's David Sirlin to be the sixth definitive version of Street Fighter II.
Gameplay
[
edit
]
Super Street Fighter II Turbo HD Remix features the same roster of characters as Super Street Fighter II Turbo, and two gameplay modes: classic and remix (rebalanced).
Other features include:
Classic/Remix (Rebalanced) Arcade mode
Online and offline multiplayer
A training mode
Hit box display
Both remixed and classic music
Voice chat
A 'Quarter Match' mode which allows players to spectate and jump into online matches simulating the arcade environment
8 player tournament mode
Worldwide rankings and leaderboards arranged by character and country
In-depth statistics tracking
A display mode that fits the game into a 16:9 aspect ratio without impacting gameplay
The sprites and backgrounds in the original Super Street Fighter II Turbo were replaced by high-resolution artwork drawn by UDON Entertainment, allowing HD Remix to make the most use of high definition displays (but the game can be changed to the original sprites as an option). Designer David Sirlin states that HD Remix is a heavily modified port of Super Street Fighter II X for Matching Service, a Dreamcast version of Super Turbo released only in Japan that featured an online versus mode.
The artists of the video game music tribute website OverClocked ReMix were chosen to handle the remixed soundtrack for HD Remix after producer Rey Jimenez heard the organization's 2006 Super Street Fighter II Turbo tribute album Blood on the Asphalt. OC ReMix founder David "djpretzel" Lloyd directed the soundtrack. Along with several new arrangements, edited versions of Blood on the Asphalt tracks and OC ReMixes will comprise the soundtrack.
Table of Contents
Character Select
[
edit
]