Jump to navigation
Jump to search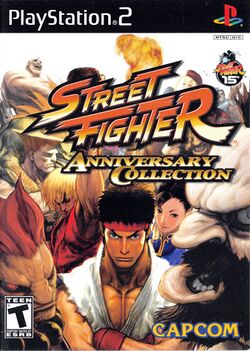 Street Fighter Anniversary Collection is a compilation of two Street Fighter games:
While Street Fighter III: 3rd Strike was previously released on the Sega Dreamcast, the anniversary installment of Street Fighter II, Hyper Street Fighter II, had never been made available in North America before. (See each individual article for more information.)
The collection also includes Street Fighter II: The Animated Movie, as well as a gallery mode which features the openings and staff rolls for all five previous Street Fighter II games, as well as three sound tests, one for each soundtrack used in various versions of the games (CPS-1, CPS-2 and the remixed soundtrack previously featured in the FM-Towns version of Super Street Fighter II and the 3DO version of Super Street Fighter II Turbo).