Jump to navigation
Jump to search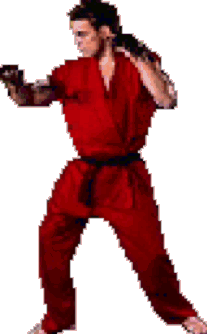 Click here for more information about Ken's other fighting game appearances.
Ken is a con-man along with Ryu in the film. The two act as strong supporting, buddy-comedy like characters in the film instead of the main characters. One of the big differences form this Ken and the Ken from Street Fighter II is that this Ken is not married, and appears not to be rich (the latter may not have been widely known at the time. While cocky like his video game counterpart, he is also slightly devious and very money hungry. Up until the end of the film he'd rather save himself than help the hostages and the A.N.
Like Ryu, the moves added for him in Street Fighter: The Movie for the arcades accent the moves he already has and is not a big departure form the existing moves. In the movie and games, Ken was played by Damian Chapa.
Ken Masters is a con man who with his partner Ryu tired to tick weapons dealer Viktor Sagat into buying toy weapons. Sagat catches on to the scam and has Ryu face Vega. Col. Guile and his A.N. forces storm Sagat's hideout and arrests everybody before that match takes place. Guile discovers who he and Ryu are and force them to help him infiltrate Bison's ranks.
Eventually their treachery is discovered by Bison and they are held prisoner. When Guile and his forces storm Bison's base, Ryu and Ken are freed. Ken wanted to leave, but Ryu believed it was worthwhile to help fight Bison. When Ken leaves, Ryu is confronted by Sagat and Vega, he is almost defeated but Ken arrives to even the odds. Ken defeats Sagat and tells him if he didn't meet him, he might have became him. He and Ryu eventually escape the crumbling temple. In the arcade version, Ken hustles his way to become very wealthy. In the console version, he helps rebuilds Shadaloo City, but quickly thinks of another con to pull.

| Name | | Input |
| --- | --- | --- |
| Seoi Nage | close, or + | or |
| Jigoku Guruma | close, or + | |
| Tsukami Nage | close, or + | |
| Throw Reversal | during throw + | |
| Slammaster | during throw reversal + | |
| Hadouken | + | (direct) |
| Shoryuken | + | |
| Fire Uppercut | Hold | and release |
| Tatsumaki Senpuukyaku | + | |
| Kuuchuu Tatsumaki Senpuukyaku | + | |
| Shadow Tatsumaki Senpuukyaku | Hold | and release |
| Kuuchuu Shadow Tatsumaki Senpuukyaku | Hold | and release |
| Double Jump | + | (after any Tatsumaki Senpuukyaku) |
| Low Slide | reversal + | |
| Fire Shoryuken | reversal + | |
| Comeback: Super Long Tatsumaki Senpuukyaku | + | (direct) |
| __Double Jump | + | |
| BLUE: Shouryuu Reppa | + | |
| RED: Rengoku Guruma | close, | |
| Regeneration | Hold + | and release |

| Name | | Input |
| --- | --- | --- |
| Seoi Nage | close, or + | or |
| Tsukami Nage | close, or + | |
| Jigoku Guruma | close, or + | |
| Jigoku Fuusha | close, or + | or |
| (EX) Hadouken | + | |
| (EX) Shoryuken | + | |
| (EX) Tatsumaki Senpuukyaku | + | |
| Kuuchuu Tatsumaki Senpuukyaku | + | |
| Kama Barai Geri | + | |
| Nata Otoshi Geri | + | |
| Oosoto Mawashi Geri | + | |
| __Inazuma Kakato Wari | Hold | during any Geri move. |
| Shouryuu Reppa | + | |