Jump to navigation
Jump to search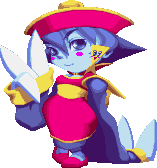 Hsien-Ko's innocent nature belies her deadly abilities. As a hopping corpse of Chinese legend, her power is only kept in check but the talisman that accompanies her, a form that is taken by Hsien-Ko's twin sister Mei-Ling. Should the talisman ever be absent, Hsien-Ko would lose control of the immense power within her, and kill indiscriminately. Hsien-Ko fights only when necessary, and is driven by the desire to save her mother's soul. Players of the home conversion of Puzzle Fighter can enter in a special code that allows them to select Mei-Ling in talisman form without Hsien-Ko. Click here to read more about Hsien-Ko and Mei-Ling.
| Portrait | Win Icon | Stage Tile |
| --- | --- | --- |
| | | |
Attack Pattern
[
edit
]
Hsien-Ko's pattern is great for chip damage, but terrible for large attacks unless they completely overwhelm the opponent. Any attack up to 12 blocks does a decent amount of disruption to opponent's chains and Power Gem attempts. However, a large attack that doesn't force an opponent to lose, will put Hsien-Ko in a dangerous position. Her large stairways of Counter Gems quickly become fodder for new chains and counter attacks that can be returned to punish Hsien-Ko. If you're going to send a large number of Gems with Hsien-Ko, check to see that the opponent's field is either very uneven, or already full of blocks.
Stage Description
[
edit
]

Hsien-Ko's stage appears to be an outdoor Chinese shrine at night time under a full moon. This is a slight alternative take on her Night Warriors stage. There is only one extra Capcom reference in this stage, and that is of course to Lord Raptor, who is peering out from between the flowers. Raptor is well known to be immensely obsessed with Lei-Lei; it is a running gag in Darkstalkers, Namco x Capcom, and other games featuring Lei-Lei.
| | |
| --- | --- |
| 1 - 11 | Taunt |
| 12 - 17 | Chireitou (2 hit) |
| 18 - 23 | Chireitou (3 hit) |
| 24 - 29 | Chireitou (4 hit) |
| 30+ | Tenrai Ha (8 hit) |
Win Quotes
[
edit
]
And again, I won with ease.
Hey, it's not time for you to walk away! Try again.
My revenge begins with you.
Why do you hold back? Your overconfidence is your weakness!
Player 1: Rose outfit, yellow trim, blue dress/hair
Player 2: Pink outfit, white trim, purple dress/hair
Special 1: Gray outfit, red trim, violet dress/hair
Special 2: Orange outfit, gold trim, green dress/hair
Artwork
[
edit
]