Jump to navigation
Jump to search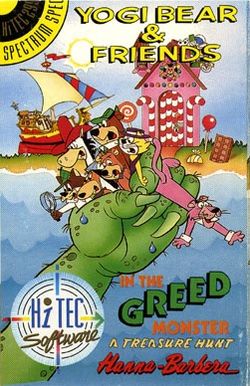 Designer(s)
Andrew Swann, Peter Tattersall, Sean Conran (ZX/CPC/Commodore 64/Commodore Amiga),
Russell Knight (Atari 8-bit)
Genre(s)
Action
Players
1
Modes
Single player
Yogi Bear and Friends in: The Greed Monster is an action game which was developed by Twilight for Hi-Tec Software, and released on the Sinclair ZX Spectrum, Amstrad CPC, Commodore 64, Atari 8-bit systems and Commodore Amiga in 1990; it is the third title in the Yogi Bear series, and features Augie Doggie and Doggie Daddy, Quick Draw McGraw (who later went on to get a game of his own), Snooper and Blabber, Snagglepuss (who is not to be confused with Mirisch Films' Pink Panther), and Top Cat (who also later went on to get a game of his own). Oddly enough, Fred and Wilma Flintstone don't appear - even though Yogi once guest-starred on their show to steal their picnic basket in 1963.
This is from the back of the cassette's, or disk's in the case of the Atari 8-bit and Commodore Amiga (which is 16- and not 8-bit) versions, inlay card, the front of which is shown in the image to the right:
Yogi's Treasure Hunters receive a call from Top Cat saying "All the
toys in the world have been stolen". It's their job to find out what
has happened to them.
They set out to solve the mystery, but while doing so all but Yogi
are captured by the Greed Monster.
Yogi not only has to find and collect all the missing toys, but now
has to rescue all his friends.
In the course of Yogi's travels he will come across some objects,
these are as follows:
Keys
Bubble Gum
Cans of Pop
Jars of Sweets
Jars of Honey
Toys
Money
© Hanna-Barbera Productions Inc. 1990
Table of Contents