Jump to navigation
Jump to search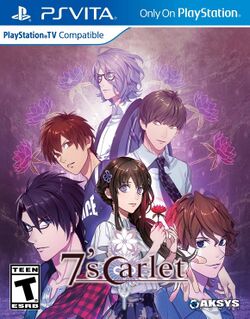 7'scarlet (セブンスカーレット?) is an otome visual novel developed by Otomate, a subsidiary of Idea Factory that produces otome games targeted toward girls, in partnership with Toybox. Like most otome games, players take the role of a female protagonist and make choices that lead toward branching paths, each focused on building a romantic relationship with a male character. It was published by Idea Factory in Japan on July 21, 2016 for the PlayStation Vita. It was localized by Aksys Games two years later, announced alongside Psychedelica of the Black Butterfly and Psychedelica of the Ashen Hawk as part of the publisher's Summer of Mystery promotion. It was released in North America, Europe, and Australia on May 25, 2018. A Steam release followed a year later, on March 13, 2019.
7'scarlet features character designs by Chinatsu Kurahana, well-known for her work on Uta no Prince-sama and Fire Emblem: Three Houses, and writing and direction by Tomio Kanazawa, who had previously produced the horror mystery game Deadly Premonition. Fittingly, the game's story is heavily focused on the mysteries surrounding the ghost town of Okunezato, visited at the game's outset by protagonist Ichiko Hanamaki and childhood friend Hino Kagutsuchi.
One year ago, Ichiko Hanamaki's older brother disappeared in the town of Okunezato. In his search for information on her brother, fellow college student and close friend Hino Kagutsuchi comes across a website that hosts a club interested in discovering the truth behind the various legends and mysteries surrounding Okunezato. Since the club plans to have an offline meeting in the very town that they seek to investigate, Hino suggests Ichiko accompany him to the meeting during summer vacation, as the club may provide some clues to the whereabouts of her brother. However, they soon discover that the town has more mysteries than even they were aware of, leading to more questions than answers.
Table of Contents