Jump to navigation
Jump to search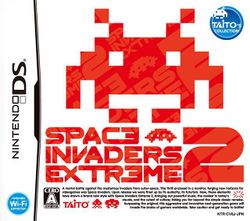 Space Invaders Extreme 2 is a fixed shooter game, which was developed by Taito Corporation for Square Enix and released on the Nintendo DS in 2009; it is the 11th, and 10th official, game in their Space Invaders series as well as the fourth one since 1995's Akkanvader. Unlike the original Space Invaders Extreme, it never made it to Sony PlayStation Portable, Xbox 360 and Microsoft Windows, which meant it never gained the ability to let up to either three or four players play it simultaneously, and after the real-time strategy-based gameplay of its immediate predecessor, Space Invaders Get Even (where the player controlled one of the invaders' UFOs), it marks the series' return to its roots.
This is taken from the back of the game's box, the front of which is displayed in the image to the right:
Space Invaders Extreme 2 follows in the footsteps of last
year's critically acclaimed Space Invaders Extreme, which
was regarded by many as the best remake of the original
classic. This year the iconic Invaders are back again and
this time the action is even more extreme! The game
combines the essence of the original game with a stunning
alliance of futuristic graphic design and cutting-edge audio,
overhauled gameplay and a whole new range of amazing
power-ups.
© Taito Corporation and Square Enix 2009
Table of Contents
Space Invaders Extreme 2/Table of Contents