Jump to navigation
Jump to search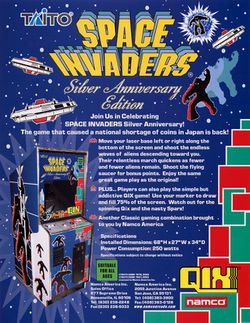 Space Invaders: 25th Anniversary is: a compilation arcade game, produced by Taito Corporation in 2003 and licensed to Namco of America for US manufacture and distribution; the original version runs on Taito's G-NET hardware, while a second version (which also includes Taito America Corporation's Qix, 1981) runs upon its own dedicated hardware (and it also has two separate sets of controls: a trio of buttons for all the Space Invaders games, and a 4-way joystick and two additional buttons for Qix).
Space Invaders (1978): As in Space Invaders DX (1994), the original game is available to play in four different virtual cabinets: three cocktails (monochromatic, cellophane and colour) and upright (with "moon" backdrop); a new 3D remake is also available to play in wire-frame and solid format.
Space Invaders Part II (1979): The series' second game, which features flashing UFOs that drop reinforcement invaders and can only get hit when they are solid (along with invaders that split into two smaller ones when hit), is also available in two different virtual cabinets (cocktail and upright).
Qix (1981): Only available in the second version, Taito's first game to be developed in the United States may not have any connections with the Space Invaders series (its characters did not even feature in the "Parody Mode" for Space Invaders DX), but it is still playable in it; however, Return of the Invaders (1985), Majestic Twelve (1990) and Akkanvader (1995) are not, in either version.