Jump to navigation
Jump to search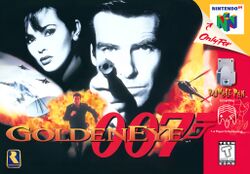 Independent wikis with more information:
This guide is for original Nintendo 64 game. For 2010 Wii game, see GoldenEye 007 (2010).
GoldenEye 007 is a first-person shooter video game for the Nintendo 64 based on the James Bond film GoldenEye. It was produced by then second-party Nintendo game developer Rare, and released in 1997. This game was the multiplayer game of the millennium.
The GoldenEye is a satellite that gets hijacked. Bond must stop the terrorists. It is all the work of the evil 006, Trevelyan, Bond's old friend who had returned from seeming death to work on the side of evil. James Bond must travel around the world to stop the conspiracy and 006.
Table of Contents