Jump to navigation
Jump to search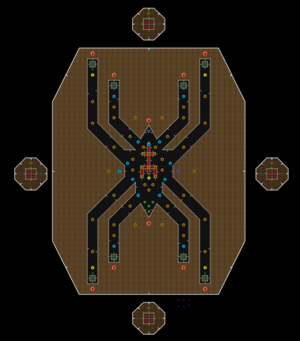 This is the final level of the game, and is a simple arena.
Walkthrough
[
edit
]
This is a simple arena mission, where you fight against up to eight Maulotaurs. On easier difficulties, you only fight three, while medium provides six.
When the map starts, you will see a generous layout of items. Collect all but the Silver Shield (unless you prefer depleting it before obtaining the Enchanted Shield). At the north of the trident is a set of Wings of Wrath. Activate them and fly through the middle trident to open the arena.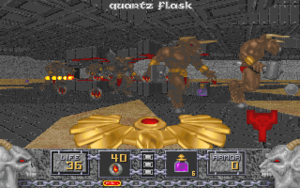 There are two important items revealed once the arena is opened - the Tome of Power, and the Enchanted Shield.
Fighting the Maulotaurs requires a simple pattern - circle around the edge of the arena, and fire into the group. There is no significant exploit, such as using monster in-fighting.
One possible tactic is to use a Ring of Invincibility, a Tome of Power and the Phoenix Rod. This combination allows you to approach a group of Maulotaurs and inflict significant damage.
In general, this map takes approximately 10 minutes to complete.
Secrets
[
edit
]
There are no secrets on the map.
Multiplayer
[
edit
]
In multiplayer, some players may appear in the isolated sections just outside the main arena, with these sections teleporting players to the southern tip of the trident. Aside from a few additional Morph Ovums at the extreme north and south, the map is otherwise similar to singleplayer.