Jump to navigation
Jump to search
This guide's purpose is to take you through all areas of this game and cover all the items along the way that you can collect. Beware of spoilers if you decide to view it.
Looking at gameplay of its predecessor, Mega Man Zero, not much has changed. The same weapons remain, with the exception of the Triple Rod, and all weapons are still leveled up, but this time through continued use, not specific uses. The Element system still applies, but Zero can now receive abilities from bosses like the original Mega Man Series games. The only real change is the overworld is no longer linked together anymore. All areas are now accessed through one in-base Trans Server, and you'll need to talk to Ciel to download Cyber-Elves. Along with this, the Escape function now serves as a way to escape cleared areas, much like the Exit Unit from the orignal series. Unfortunately, this means missions cannot be aborted, making them one-way deals, but there aren't any mission-specific Cyber-Elves, nor any obtained from bosses, which means you can go back to collect any you might miss.
Aside from all the new changes, you'll notice this sequel is tougher than the first game. It might seem to hammer difficulty into the ground sometimes, but if you get into the hang of things, it shouldn't be a huge problem to get through the game.
So, if you're all set, it's time to play Mega Man Zero 2!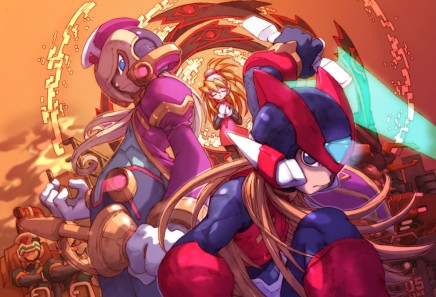 Item checklist
[
edit
]
Mission
(Maverick Hunter)
Element
(weakness & chip)
EX Skill
(get A/S Rank)
Suggested Form to obtain
(requirement to meet)
Mecha Scorpia
-
-
-
Poler Kamrous
weak vs. Flame Chip
drops Ice Chip
Triple Shot (ice buster)
X Form (use Z-Buster)
Panter Flauclaws
weak vs. Ice Chip
drops Thunder Chip
Spark Shot (thunder buster)
Rise Form (use jumping Saber slashes)
Phoenix Magnion
weak vs. Thunder Chip
drops Flame Chip
Tenshouzan (flame saber)
Erase Form (mirror bullets with Shield B.)
Hyleg Ourobockle
Stage affected by Flame Chip
Laser Shot (neutral buster)
Power Form (Chain Rod pulls)
Golem Trio
weak vs. all chips
-
Active Form (use dashing Saber slashes)
Kuwagust Anchus
weak vs. Ice Chip
Sengatotsu (dashing thunder saber)
Defense Form (attack with S. Boomerang)
Burble Hekelot
Stage affected by Flame Chip
Energy Chain (neutral chain)
Energy Form (collect energy crystals)
Harpuia
weak vs. Ice Chip
Kougenjin (neutral saber)
-
Leviathan
weak vs. Flame Chip
Sharp Edge (jumping ice saber)
-
Fefnir
weak vs. Thunder Chip
Blast Shot (flame buster)
-
Rainbow Devil
-
Filter Shield (neutral shield)
-
Fenrir AP
weak vs. Thunder Chip
-
-
Leviathan AP
weak vs. Flame Chip
-
-
Herpuia AP
weak vs. Ice Chip
-
-
Elpizo & Dark Elf
-
-
Proto Form (beat the game)
Ultimate Form (use every Cyber Elf)