Jump to navigation
Jump to search
This is the first game in the Over the Hedge series. For other games in the series see the Over the Hedge category.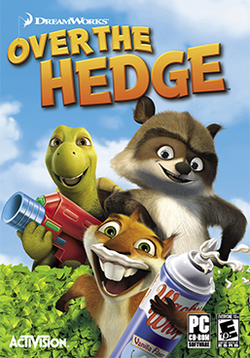 This guide is for the console version. For the GBA version, see Over the Hedge (Game Boy Advance). For the DS game, see Over the Hedge (Nintendo DS).
Over the Hedge is a video game based upon the 2006 film of the same name.
In the game, which takes place a year after the movie, RJ, Hammy, Verne, and the gang feel that they need to have more things for the log. This leads them on many heists to areas such as human houses and even Vincent's den. There are also several minigames.
All through the game, they try to avoid the Sniffer (Dwayne the Verminator), who tries to defeat them by using mind-controlled vermin he has captured as his "henchmen." At one point, many animals, including weasels, badgers, and even Vincent are controlled.
Table of Contents
Movie Levels
Projector Levels
Martin Heist
Shooting Gallery Levels
Smith Heist
Cave Levels
Conner Heist
Roller Coaster Levels
Gladys Heist
Vermtech Levels