Jump to navigation
Jump to search
This is the first game in the Valkyrie Profile series. For other games in the series see the Valkyrie Profile category.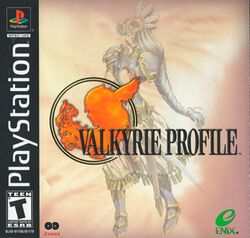 Neoseeker Related Pages
Links
Valkyrie Profile (rebranded as Valkyrie Profile: Lenneth for the PSP remake) is an RPG with some platforming-esque elements. You play as Lenneth Valkyrie, the middle of the three Valkyrie sisters, a Valkyrie who is charged with finding the souls of slain warriors to recruit for Ragnarok, the final battle. The game is partially non-linear, as there are 3 possible endings, and over 20 characters to recruit.
Table of Contents