Jump to navigation
Jump to search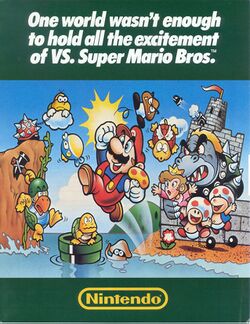 While Super Mario Bros. needs no introduction, this lesser known arcade variant might require some explanation. When the NES first launched in the United States in 1985, it was facing an uphill battle. The video game market collapsed in 1983, and retailers were reluctant to touch anything video game related for years to follow. Nintendo knew they needed to give the market a shot in the arm by creating demand for their own product. Among other techniques (such as R.O.B.), one way was to introduce some of their games in to arcades, which were still thriving at the time. As a result, many would-be Nintendo-philes actually saw Super Mario Bros. for the first time in the arcade before ever seeing it connected to a home television set.
On the other hand, Japan needed no push as the Famicom was performing exceedingly well. Nevertheless, here was this arcade game that Nintendo was about to publish, of a game that thousands, if not millions of players already had at home. What incentive would they have to drop a single yen in to it? To remedy that, Nintendo made a few changes and tweaked the levels in the arcade version of the game, dubbed Vs. Super Mario Bros. to fit in with their line of Vs. arcade games which were nothing more than enhanced Famicom games. While the early levels of the game seemed familiar, albeit a little altered, the later levels were entirely different, with new features and traps, thus keeping the game fresh for arcade players who already mastered the original.
The Vs. Super Mario Bros. version borrows heavily from the original game, but the new levels went on to appear in the Japanese version of Super Mario Bros. 2, known in the United States as The Lost Levels. To learn more about how to play this game, please read the Super Mario Bros. guide.
Stage arrangement
[
edit
]
SMB means the original Super Mario Bros., while LL stands for the Lost Levels.
Table of Contents