Jump to navigation
Jump to search
This is the first game in the Look and Read series. For other games in the series see the Look and Read category.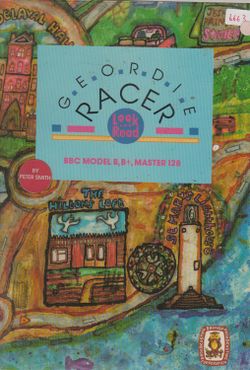 Geordie Racer is an educational game developed by Longman Logotron for BBC Enterprises (now known as BBC Worldwide), and released to British primary schools for the BBC Micro in 1987; it is based on the twelfth serial of the BBC's drama series Look and Read (which premiered on BBC2 in 1967), and the player is guided through it by the show's mascot, Wordy (but the serial on which it is based was the last to feature him). The character of Sal the Sea Serpent, who appears in the tenth and final challenge, was also created specifically for the game and did not appear on the television.
This is taken from the back of the disk's inlay card, the front of which is seen in the image to the right:
This Look and Read program invites pupils to play detective.
Bright graphics guide them through the adventure, while numerous clues are offered in the form of word and number problems.
Using memory, logic, and literacy and numeracy skills, children must find the stolen treasure and catch the thief.
© BBC Enterprises Ltd MCMLXXXVII
This is the first game in the Look and Read series and was later followed by six sequels: Through the Dragon's Eye (BBC Micro, 1989), Sky Hunter (BBC Micro and Acorn Archimedes, 1991), Earth Warp (Acorn Archimedes, 1993), Spywatch (RISC PC, 1996), Captain Crimson (RISC PC, 1997), and The Legend of the Lost Keys (RISC PC, Microsoft Windows, and Macintosh, 1998); however, the five 32-bit games are now only playable if you still have the original disks (or CD, in the case of the last one) and an actual Acorn Archimedes, RISC PC, Windows 98 PC, or Macintosh computer to run them on.
On June 12, 1992, an updated version of this game was released for the Acorn Archimedes; it featured a new loading screen and title screen, along with several new sound effects, but the sprites were reused from the original BBC Micro version (however, the carrier pigeons Blink, Flap, Flip and Flop were coloured red instead of white, so they looked identical to the racing pigeons Star, Homer and Bonny). Furthermore, after each challenge, the question of "You are doing well! Do you want to carry on?" would appear on the screen, with the answers "Yes" and "No" below it, and the player had to select "Yes" in order to continue - and on January 26, 2022, an ADF file of this version that is usable in Acorn 32-bit emulators was uploaded to Archimedes Archive.
Table of Contents