Jump to navigation
Jump to search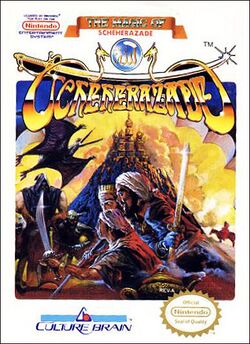 The Magic of Scheherazade is a game for the Nintendo Entertainment System, released by Culture Brain in 1989. It is based on the 1987 Famicom game Arabian Dream Scheherazade (天方夜谭, Arabian Dream Sherazaado?).
The game was innovative for its time, incorporating elements of adventure and role-playing game styles.
The original Japanese version of The Magic of Scherherazade is a significantly different game than its North American counterpart. Everything from the music, graphics, and world regions are different between the two versions. The music of the Japanese version is simplified and sounds more in line with compositions from 1st generation Famicom/NES games. The graphics are more tipycally Japanese-looking ("anime style" from the North American point of view); for example, the protagonist has large round eyes versus the nondescript facial features of the North American version.
The player attempts to rescue Princess Scheherazade from the evil wizard Sabaron, who has summoned the demon Goragora to do his bidding.
The player controls a player-named hero (Ben-Isfa) who is a descendant of the great magician Isfa, who unsuccessfully attempted to defend Arabia from the evil wizard Sabaron. As a result, the Hero's memories are erased, and his beloved, Princess Scheherazade, is captured. Ben-Isfa must travel across five worlds to rescue Scheherazade's three sisters, her father, and finally Scheherazade herself. Along the way, eleven NPCs join the party to fight against Sabaron.
Gameplay
[
edit
]
The gameplay is a hybrid between The Legend of Zelda and Dragon Quest.
The majority of play takes place in overhead view, where the player moves between screens, as in The Legend of Zelda. In some transitions between screens, a turn-based battle may trigger, as in Dragon Quest.
In each world, the player must complete a number of tasks and recruit the area's allies, traveling between two eras of the world using the Time Gate found on a particular screen. Landscapes are numerous and include the tree-lined overworld, towns, deserts, underwater areas, dimly lit dungeons, and palace labyrinths.
Table of Contents