Jump to navigation
Jump to search
In the Nonstop Debate, use Rantaro's Belongings to shoot Rantaro was masterminding.
Use Korekiyo's Account to shoot never went to the library.
Choose "cospox."
In the Mass Panic Debate, use Maki's Account to shoot Rantaro's.
In the Nonstop Debate, use Sliding Door to shoot with that sliding door.
In the Spot Selection, select the projector screen.
Use Moving Bookcase to shoot no obstacles.
Select the Hidden Door Photos.
Use Card Reader Dust to shoot hidden door.
In the Rebuttal Showdown, use Front Entrance Photos to slash rejoin everyone.
Select the Stacked Books.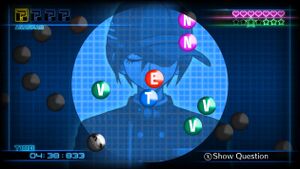 Choose "the security sensor going off."
In the Nonstop Debate, use Hidden Door Photos to shoot the moving bookcase.
Turn Receiver on Shuichi into a lie and use it to shoot also had the receiver.
In the Debate Scrum, use the following order:

Intervals
Alibi
Together
Receiver
Lie

Choose "the camera flash."
Choose "to lure the mastermind closer."
Select Kaede Akamatsu.
Use Lookout Classroom to shoot we know that it was in the library.
In the Hangman's Gambit, use the flashlight to find Hidden Monokuma #5 and spell "VENT."
Use Stacked Books to shoot it started rollin'.
Choose "Miu Iruma."
Choose "when she was leaving the classroom."
Use Promotional Video BGM to shoot the library shoulda been quiet.
Choose "backpack."
At the end of the Argument Armament, organize the words to form the phrase "KILL THE MASTER MIND."
Conclusion
[
edit
]